Prevent programs from loading at startup
It's a common sight for most Windows users to have tons of apps and features loaded when their machines start. These are mostly the ones installed by the manufacturers, and others which automatically launch at startup.
Watching these programs load is one of the most visible instances where you feel slowness of your machine. On Windows 10 (and Windows 8/8.1), you can disable programs from loading at startup using the task manager.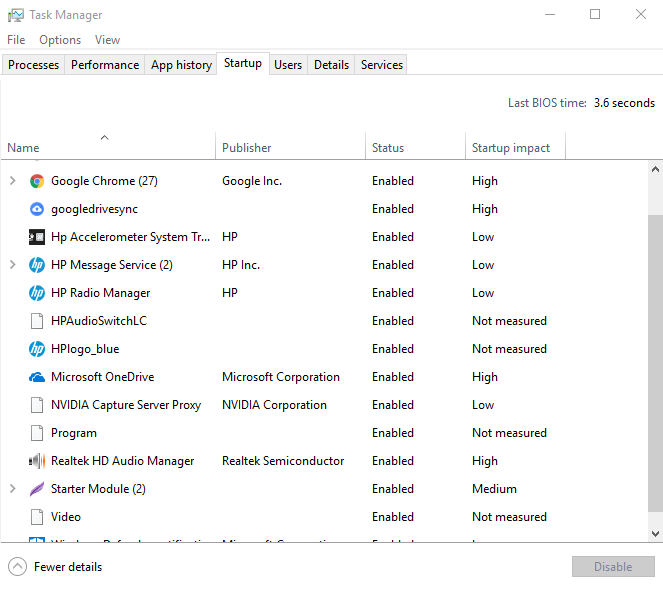 And if you're cherishing the old Windows 7 or Windows XP, the interface to disable startup programs can be accessed via the 'msconfig' utility. To do so, use the Windows + R keyboard shortcut. Type msconfig and hit Enter.
This way you can speed up Windows startup by avoiding programs you don't want to popup automatically.
 Use fewer apps at a time, reduce RAM usage to speed up computer
Running multiple apps at the same time increases your productivity. But doing the same puts an extra burden on the shoulders of your PC. Well, in most cases, the CPU isn't affected much, but the RAM is the resource that gets exploited.
You can head over to the Task Manager app and monitor memory usage under the Performance tab > Memory. If the usage stats show that the programs are harassing the RAM chip, you can kill the culprits from the Processes tab to speed up your Windows 10 machine. But make sure you don't end up killing an important Windows processes. You have to see that there is a difference between the 'Available' memory and the memory 'In Use'.
Your system memory filling up to the brim causes things to slow down on your computer. Adding more RAM is one option, but it requires you to shell out your hard-earned money. A less efficient measure to boost Windows 10 performance would be increasing the size of the Windows Page File.
See if your Windows isn't corrupt
While the word "corrupt" is mostly used for a special category of humans, the data on operating systems like Windows can also get corrupt. Probably, some process or an app messed up things.
The corrupt data can make your Windows 10 PC work like a sloth (no offense to the animal, please). And in the worst scenarios, your system might crash.
One of the easiest ways to fix corrupted files on Windows 10 is to run the system file checker utility. You might have used the same while trying to repair corrupt pen drivesand hard drives that went rogue. Fixing corrupted files will surely speed up Windows 10 machine of yours.
How to run System File Checker in Windows 10?
You can start an elevated command prompt window and execute the following command.
sfc /scannow
The process might take some time depending on the size of your hard drive. Alternatively, you can run the tool by visiting This PC > Windows drive (right-click) > Properties > Tools. Click Check.
Scan your PC for malware to speed up Windows 10
Well, this might be the most naive thing you would read in the post intended towards speeding up Windows 10 PCs. Malware community has existed for decades, and their fear compelled Microsoft to include an anti-virus tool in their operating system; it's called Windows Defender.
Your slow Windows 10 system might be due to some fishy app hiding inside the machine, disguised as some system update program or anything else.
You should regularly scan your PC for malware, either by using Windows Defender or some third-party antivirus software, to make your Windows faster.